Free Guide: API Solutions for TVEyes Partners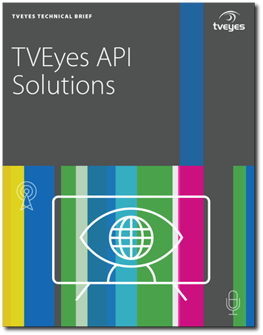 Looking to integrate broadcast monitoring content into your platform? Our new guide takes the mystery out of choosing the right API solution for your needs.
By making customized broadcast media, transcripts and other metadata easily accessible from your intranet, internal application, or customer-facing platform, our APIs can save time, increase productivity and help you deliver higher value to your customers.
This guide will help you learn more about our API Solutions, including:
When an API is the best data integration solution for your needs.
How TVEyes collects its data globally – and what makes it unique.
The operational and technical advantages of our three most popular APIs.
Download your free guide today and learn how to make the most of your broadcast media content using TVEyes API Solutions!