Free Guide: 10 Reasons Why Your Educational Institution Needs Broadcast Media Monitoring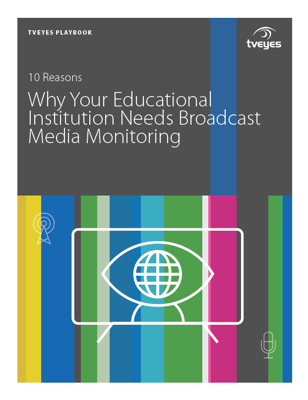 Issues affecting universities, K-12 school districts, and private academies are discussed on TV and radio every day. Do you have an effective way to incorporate these voices into your communications plan?
With a broadcast media monitoring service, administrators and communications professionals at educational institutions can stay on top of emerging issues and debates. But it's also an exceptional tool for helping you achieve your aggressive recruiting and fundraising goals and creating more brand awareness about your school.
In this new playbook, you'll learn why broadcast media monitoring is a must-have for your institution.
Our playbook shares specific ways broadcast monitoring can be used to set your educational institution apart, including:
Creating greater brand awareness
Developing an expert program
Supporting recruiting and fundraising efforts
Managing an emerging crisis
Proving ROI with meaningful metrics
This playbook makes the case for integrating broadcast media monitoring into your daily communications activities.
Download your free playbook today and learn how broadcast media monitoring can help you achieve your goals.